Shopify Store Translation App
Bablic makes it easy to translate your Shopify store – without the hassle.
We've designed Bablic from the ground up for ecommerce. So you can expand your store into new markets, tapping into powerful new revenue channels. And it comes with a ton of features to make translation and localization as simple as possible… SEO friendly to make your store easier to find in any language Seamless integration with Shopify checkout (in the user's language) Intuitive Visual Editor so you can tweak your site's design to look its best With Bablic, there's no programming needed to get started with Shopify store translation. If you can find your way around Shopify's store-building system, you already have all the knowledge you need to go live and get Bablic's power on your side in minutes. Before you know it, you'll be rolling out the red carpet to new customers from around the corner – or across the globe.
Bablic Translation & Localization: Built for Shopify
Since Bablic is an add-on to your existing Shopify site, you already know everything you need in order to start using Bablic. With just a few clicks, you'll get a live preview of your translated store. Then, customize its look and feel for a great-looking design and user experience. Hundreds of users have already used Bablic to translate Shopify stores. And over 96% of Bablic users stick around for over 2 years. Why? Because Bablic is easy to use, compatible with all Shopify themes, plays nicely with other plug-ins, and offers your customers the best possible experience in their own language. Bablic truly takes care of every aspect of the localization experience. It even helps you handle customer relationships, like managing after-sale follow-up emails to your customers in all the languages your site offers. Only Bablic offers Shopify translation that's as powerful and easy-to-use as Shopify itself.
Translate Your Shopify Store with Bablic
Follow the step-by-step guide below, with detailed screenshots, in order to integrate Bablic with Shopify and translate your Shopify website.
Log in to your Shopify dashboard/admin panel to get started!
1) Click on Online Store
From the left menu/navigation, click on "Online Store", as seen in the screenshot below.


2) Click on Themes
Next, please click on "Themes" in order to be able to edit your current theme.


3) Click on Customize Theme
Towards the top-right, click on "Customize Theme".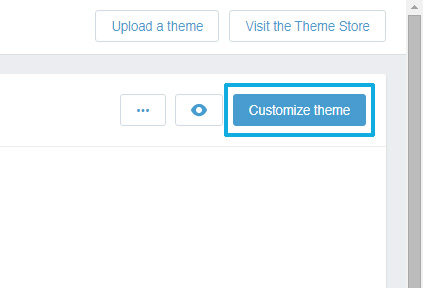 4) Click on Theme Options
Start by clicking the dropdown "Theme Options" and then select "Edit HTML/CSS" as seen in the detailed screenshot below.


5) Click on theme.liquid
Under "Layout", click on "theme.liquid" to open up the HTML editor where we'll paste the Bablic code.


6) Paste the Bablic Code
Right before the </head> tag (you may have to scroll down a little to get to it) in the HTML editor, paste the Bablic code. (Code is already pasted in the screenshot below, just to show you what it should look like)


7) Click Save
The last step; make sure to "Save" your changes.




Once you're done, go back into the Bablic Editor and click Publish, that will make the translation live on your website.
Checkout Cart
Part 1: Find out which Checkout Languages are currently supported by your Shopify theme
8) Repeat above steps 1 to 4 but click "Edit Language" as shown in the screenshot below
9) Languages marked "Complete" are fully supported
If the languages you added are fully supported then your integration is complete, if it isn't supported please proceed with Part 2 below.
Part 2: Adding Your Custom Languages
1) Click on "Change theme language" button on the top right
2) Select the "English" dropdown menu
3) Choose "other languages"
4) Click on the "please select" dropdown menu
5) Choose the language you desire
6) Click "Save"
7) Click "Checkout and System"
8) Manually add translations for the checkout page in your desired language
9) Save your translations
All done!
If you have any issues translating your Shopify store with Bablic, please get in touch [email protected] - we'd love to help you localize your Shopify website.